STEVIE WONDER and STITCHES
Stitches Technology is honored to receive the support and encouragement of Stevie Wonder, an outstanding human being who is a treasure to us all. Stitches is committed to developing, manufacturing and distributing the Stevie Wonder Braille garment label, (THE WONDER LABEL), a product that will help make life easier for the visually impaired.

Stevie Wonder is a legendary artist, songwriter, musician and producer who has been Grammy Award nominated a remarkable 62 times and has received 21 Grammys and the Grammy Lifetime Achievement Award. Stevie has been making music and enriching lives for more than three decades, demonstrating extraordinary humanitarian efforts, philanthropic leadership and generosity of spirit throughout his celebrated career.

From "Little Stevie Wonder" to adult superstar, Stevie is beloved for his monumental talent, his compassion for humanity and his desire to challenge injustice.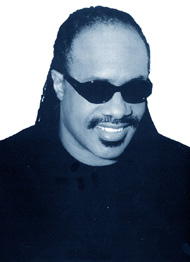 CLICK ON STEVIE'S PHOTO TO GO TO HIS OFFICIAL WEB SITE.

DREAMS PROJECT Please visit the special MP3 site to listen to some of the wonderful material featured on the DREAMS CD.
JEANNE GERE COLLECTION Link to Jeanne Gere Collection's inspiring collection of gift books and music.
Al Mack Will Music Site Please sample Al Mack Will's unique and powerful music..we call it Urban Country Gospel. You'll love it!
Katie G's Music Site Web site of teen pop singer Katie Giguere, a featured artist on the DREAMS CD.
PURCHASE THE DREAMS CD HERE
Amazon.com Hear the song that's sweeping the nation on AC radio, and purchase the DREAMS CD.